Spring Clearance Sale Ends Today!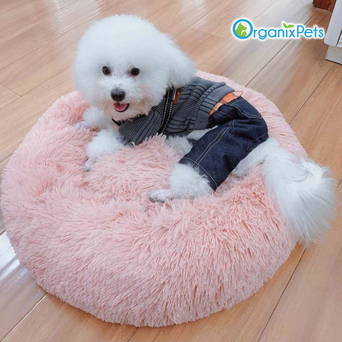 EASE PAIN & CORRECTS POSTURE: Raised rims that support your dog's neck and spine for the duration of their sleep bundled with premium soft foam to reduce muscle and joint pain.

STYLISH: No longer an eyesore, our minimalist design, and sophisticated colors ensure our beds blend into the style of your home.

PET-SAFE: Anti-bacterial faux fur and durable nylon combine to create a comfortable and hygienic place for your dog to sleep.

MACHINE WASHABLE: Wash and dryer friendly to eliminate pet odors and excess hair quickly and easily. Note - Please dry immediately after washing to prevent the fur from matting.

SATISFACTION GUARANTEED: If something is wrong with your order, you can quickly contact our helpful customer support team to get a refund.
"..if you would like to gift something special to your pooch, this is it."
Introducing Comfy Calming Dog/Cat Bed, crafted with premium nylon and luxury faux fur to keep your fur baby warm throughout the night. Give them a full night's sleep and help reduce anxiety for overall improved health and well-being. This unique pet bed is also extremely easy to clean!
EASES ANXIETY: Raised rims that "protect" your dog which has a positive effect on your dog's nervous system calming their sensory behaviors and providing comfort.

DRUG-FREE REMEDY: Natural remedy that reduces stress for separation, thunderstorms, fireworks, travel, vet visits, loneliness, and reactivity.

REDUCES VULNERABILITY: Luxurious faux fur that mimics that of their mother's mentally triggers safety and reduces the sense of vulnerability. Reducing stress on their heart and mind, calming and relaxing them.
100% No-Risk Money Back Guarantee
FREQUENTLY ASKED QUESTIONS
30 DAY MONEY BACK GUARANTEE: Not happy? No problem! Just follow our money-back guarantee protocol to receive a full refund.
100% No-Risk Money Back Guarantee
Being a dog parent is one of the best things in life and we understand this because we are dog parents too. Our relationship to our dogs are important and there's no better way to bond and make our relationships better than with something we do with our dogs daily: Walks.
We wanted to find a way to make walking enjoyable and easy for all dogs and dogs parents alike. So our passion for our dogs and helping other dog parents helped us create OrganixPets.com
Headquartered in sunny Los Angeles , Ca (yes, we do wear tshirts and sandals all the time), we are committed to providing products that will make you and your dog happier and better with each other and out in the world.
FREQUENTLY ASKED QUESTIONS